Fan Cheng Focus on China and look around the world to see the growth and advancement of temi rob
Published on:2020-08-05
[global network intelligence comprehensive report] referring to robot, many peoples cognition of it comes from science fiction films at home and abroad. In the film, these high-tech products have a human like appearance and high intelligence. In reality, although robots are not so tall, with the progress of technology, they also have a lot of functions. The role of robots is also highlighted again under the epidemic. Hospitals, airports, hotels and restaurants have accelerated the introduction of robots to allow robots to serve guests and carry out disinfection operations, which not only alleviates the shortage of manpower, but also reduces the risk of infection.
Nowadays, there are more and more robot products on the market. They can be seen everywhere in places with dense traffic such as airports, hotels and shopping centers. As one of the largest robot markets in the world, China is even more so. Under the multiple stimulation of Chinas domestic policy, technology and market demand, a large number of robot brands are or have taken root here, including temi, a robot brand from Israel.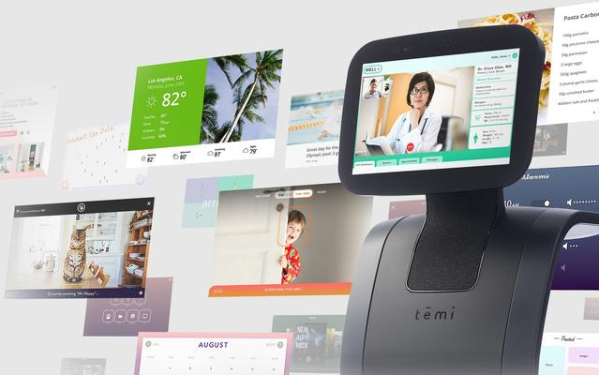 It is understood that although it is an Israeli brand, temi is headquartered in China and will be sold in China in October 2019. Galgoren, co-founder and CEO of temi, told reporters that temi brand was founded based on the concept of "better serving mankind", which can be used in retail stores, hotels, restaurants, hospitals, health care services, government services and other scenes. In his opinion, most robots on the market try to look more like humans. They have heads, eyes, arms, legs and so on. However, compared with the shape closer to human beings, temi was originally designed to be like a work of art, shuttling through hotel halls, restaurants and offices. 
According to Gal Goren, the core advantage of temi is that it has an open system, which means that each enterprise can develop a solution according to its own needs, so as to perfectly adapt to each enterprise. For example, temi can greet guests at the door of retail stores and interact with them on the products they are looking for; In the restaurant, temi can help to call the number, guide the guests to their seats and finally assist in payment; In the hotel, temi can receive guests, help guests check in, and provide route guidance to the elevator or guest room; In hospitals, temi reduces the contact between medical staff and patients by providing real-time video conference, medical supplies and temperature detection to isolated patients; In galleries, museums and exhibition rooms, temi will show and explain the exhibits while leading guests to visit the exhibits; Temi is also used in the library to show readers the location of the books they need. At home and abroad, temi has served many enterprise customers, such as Midea, tranefour, country garden, Tencent, Massachusetts Institute of technology, shaarezedek medical center in Israel, Singapore Telecom and so on. 
For service-oriented robots, the difficulty of current development lies in the core technical barriers and cost control. According to Gal Goren, all components temi, including mechanical principle, electronics, optics, software and algorithms, have been independently developed, and its core technology robox navigation system has applied for patent protection. It is precisely because the most important sensor chip and core algorithm are in their own hands that it has become a relatively economical robot platform in the current market. Gal Goren said they plan to continue to improve and reduce the use cost of temi. 
When it comes to focusing on the development of the Chinese market, galgoren particularly stressed that temi provides Tencent voice interactive service, which is fully compatible with Chinas business environment and can communicate with users in Mandarin. With the continuous expansion of robots in the Chinese market and the increase of application scenarios, Gal Goren hopes to cooperate with the Ministry of industry and information technology of China in the future to provide services for Chinese hospitals to reduce the burden of medical personnel. As for brand development, Gal Goren said that temi dealers are now available in China, the United States, Israel, Hong Kong, Macao, Taiwan, South Korea, Japan, Australia, Singapore and other places. Temi will assist the distributor to discuss and customize the cooperation scheme suitable for customers, so as to establish a long-term cooperative relationship. In the future, temi will soon expand to Europe and focus more on its business in China. Ren Zhengjun, China business director of temi, added that in the next 2-3 years, temi will focus on the 3 + 1 strategy and establish a partner alliance composed of 30 dealers in China. In terms of products, temi is also constantly updated. For example, it launched the application market two months ago. All developers and enterprises can develop their own solutions and upload them to the temi application market for use by other users and enterprises. 
For many brands, 2020 is a year of reshuffle and integration of the robot market. In view of the high complexity of the industry, the high entry threshold, and the rapid progress of robot technology every year, it is not easy for an enterprise to achieve success. From the current performance, temi has made good achievements in office, medical treatment, catering, hotel, retail and other fields. In the future, lets wait and see how temi will perform in the Chinese market, especially in the medical industry that temi focuses on